100% Natural & no preservatives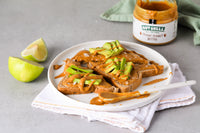 Post-workout Avocado Peanut Butter Toast
This delicious savory combo sets you up for the day after your workout!
Spread 1tbs of creamy peanut butter & slice half an avocado on a whole grain toast. Top with a squeeze of lime & a sprinkle of coarse salt.
Shop Products
What our customers think of us!
Seriously this is the best peanut butter ever
Hands down Best Almond Butter. Ever. Especially yummy with dates and a cuppa coffee.heaven
Its the healthiest and yummiest chocolate spread 😍 You have to try it!